Colors are more powerful that we realize and there is a science behind how colors trigger the subconscious of the people around you as well as for yourself. The color red in particular activates feelings of confidence, strength and love. This is why in many cultures, red is seen as a positive and joyous color associated with global festivities such as Christmas, Weddings (South-East Asia), New Years (China) and many other celebrations.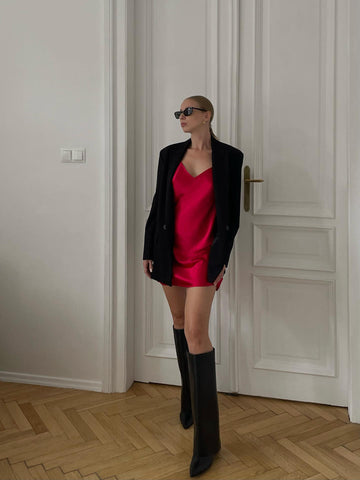 Women across the world are choosing this timeless hue to elevate their style and leave a lasting impression on life's most memorable moments. Check out Kate Middleton, Michelle Obama and Victoria Beckham for inspiration in red when you command attention at school graduation, add a touch of romance to Valentine's Day, exude confidence in important presentations, and lounge comfortably at home. Whilst you may have missed the apparent Autumn trend of fiery red, the holiday season is just around the corner to whip red out at every opportunity and then re-use throughout the year. Whether this is at work for your own version of the 'power tie', in sports games, or at home, roll out your own red carpet ready to feel at your best.
Given we are going into the holiday season, this article shares inspiration of how to weave red into the next few weeks of joy and merriment. The festive spirit fosters a sense of togetherness and shared happiness. In this vibrant tapestry of traditions and celebrations, the significance of radiant red takes center stage.
Independent in red
Who prefers to use this time to have some time to themselves or simply needs a quiet end to the year? Often this time of year can assume extroverted behaviors whilst some of us, want quietness and solitude. Balance is about working out what is best for you and making that happen in the time you have available. If that is slow mornings or relaxed evenings for yourself, embrace these times in luxurious and comforting silk. Feel your inner strength, your independence and spend the time at home doing the activities you may have not had time to explore, whether it is reading a good book, getting those extra few hours sleep or practicing a hobby. Feel true comfort and inspired by you.
Silkinc crystal bias cut v-neck mini slip dress (spirit slip)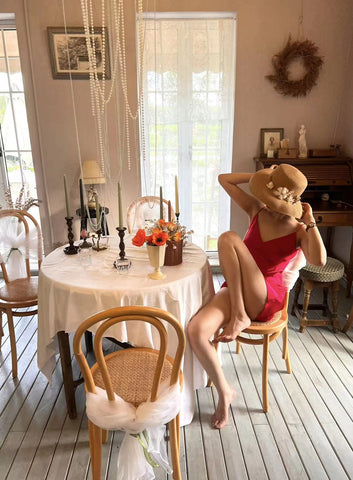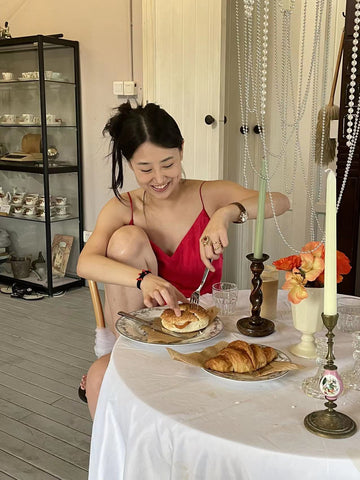 Going glam this holiday season
This the season for every possible get together to be scheduled! Your diary may be packed with fun-filled catch ups with friends, family and work and in the spirit of finding balance and not slaving over a stove (apart from perhaps Thanksgiving and Christmas Day!), we often find ourselves at events, restaurants, theatres and bars to enjoy the company of our loved ones.
Try red as the centerpiece of your festive outfit, combined with a stunning warm jacket for the cold, or if a little warmer where you are, a trench coat. You can add a red scarf for that extra layer of warmth, draped as a shawl or tied tight.
Feeling casual and comfortable
Visiting family and friends for Thanksgiving and / or Christmas and want to stay comfy? Try going monochrome in red with the cute spirit slip dress. You can complete the look with knee-high boots in a neutral tone, a polo-neck underneath or oversized jumper on top.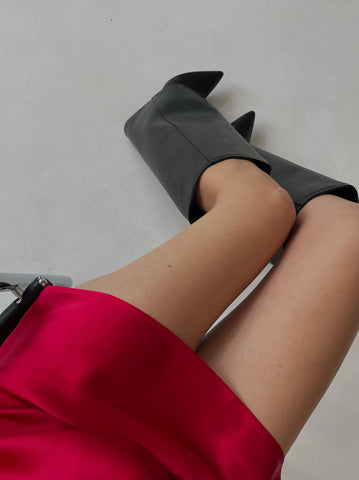 Popping out last minute
Feeling merry and want to spread some cheer wherever you go? This could be the supermarket, walking your dog or you might even be going to work. No problem, the Si-mere scarf is a versatile accessory that can be thrown on as you walk out your front door. It adds a pop of festive color to any outfit so keep warm and stay jolly with ease! Try wrapping the red si-mere scarf in a relaxed manner around your neck. You can let the ends hang loose or tie them in a loose knot for a laid-back vibe.
Family time
Who spends Christmas mornings in their PJs? Or perhaps it is even an all day activity…there is no judgement here. Envelope yourself in silky comfort whilst staying in festive red, radiating joy and merriment. It's a statement piece that brightens the room and uplifts the spirits of those around you. The oversized nature of the pajama design gives comfortable room for any amount of eating that may or may not be involved throughout the day…
Festive travels
School holidays are approaching and as our networks have become increasingly global, it is not unusual to have to travel to spend time with loved ones. Traveling can take precious time in this short period where we have taken holidays, so don't waste it. Our eye-catching accessories are designed not only to add a touch of festive elegance but also to enhance your sleep quality, look after your skin and hair and rejuvenating your rest during the hustle and bustle of the holidays or long journeys. The vibrant red color is not just aesthetically pleasing; it symbolizes warmth, joy, and a sense of relaxation, setting the perfect ambiance for a peaceful night's sleep.
Classic red eye mask and Silkinc white rabbit eyemask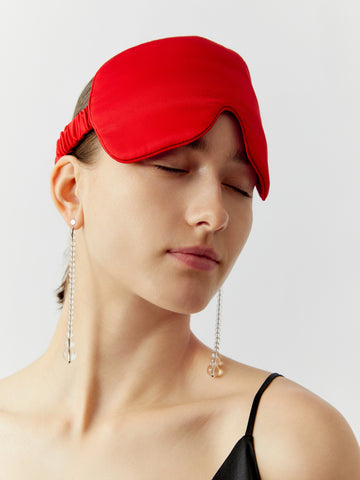 Red is ideal for this holiday season but remember, what you purchase now will last forever with Silkinc. Silk is durable, comfortable, luxurious and we ensure the quality of our stitching. Take this inspiration to cozy family gatherings, glamorous parties and festive dinners. Silkinc's red silk clothes are thoughtfully designed to effortlessly transition from one occasion to another, now and throughout the year.